God vs. Big Pharma
Beloved, I wish above all things that thou mayest prosper and be in health, even as thy soul prospereth. (3 John 1:2)
DISCLAIMER: I am not a medical doctor and therefore I cannot diagnose medical conditions, nor prescribe medicines for those conditions. What I can do under our God-given rights of free speech and free press guaranteed by the First Amendment to the Constitution is to share with you my personal experiences (or those of others), and our opinions. Such speech and publication of same is therefore presented for the reader's information, education and enjoyment. What the reader does with the information is their own responsibility. We bear no liability.
It is that time of year again when that yellow layer of pollen dust seems to coat everything. Millions of Americans head to the pharmacy to get prescription or over-the-counter (OTC) packages or bottles of allergy drugs.
They may have any or all of a medley of symptoms: runny nose, itchy eyes, sinus congestion, mild headache, etc.
The Claritin™, Zyrtec™, Benadryl™, Allegra™ or other brands provide relief from the symptoms. But do they cure one's allergies? No! Notice that the commercials for almost all of Big Pharma's drugs never claim to cure, but only to manage or relieve symptoms… to make you feel better.
In other words, your health has not improved, you are not cured. Your body still has allergy problems. The body does not heal by treating symptoms. I presented a somewhat longer blog on this topic about a year ago detailing my discovery many years ago, and regular use of bee pollen in my diet. You might want to read that for more information. Bee pollen is God's provision for us to build and maintain our immune system naturally with no negative side effects (that I am aware of.)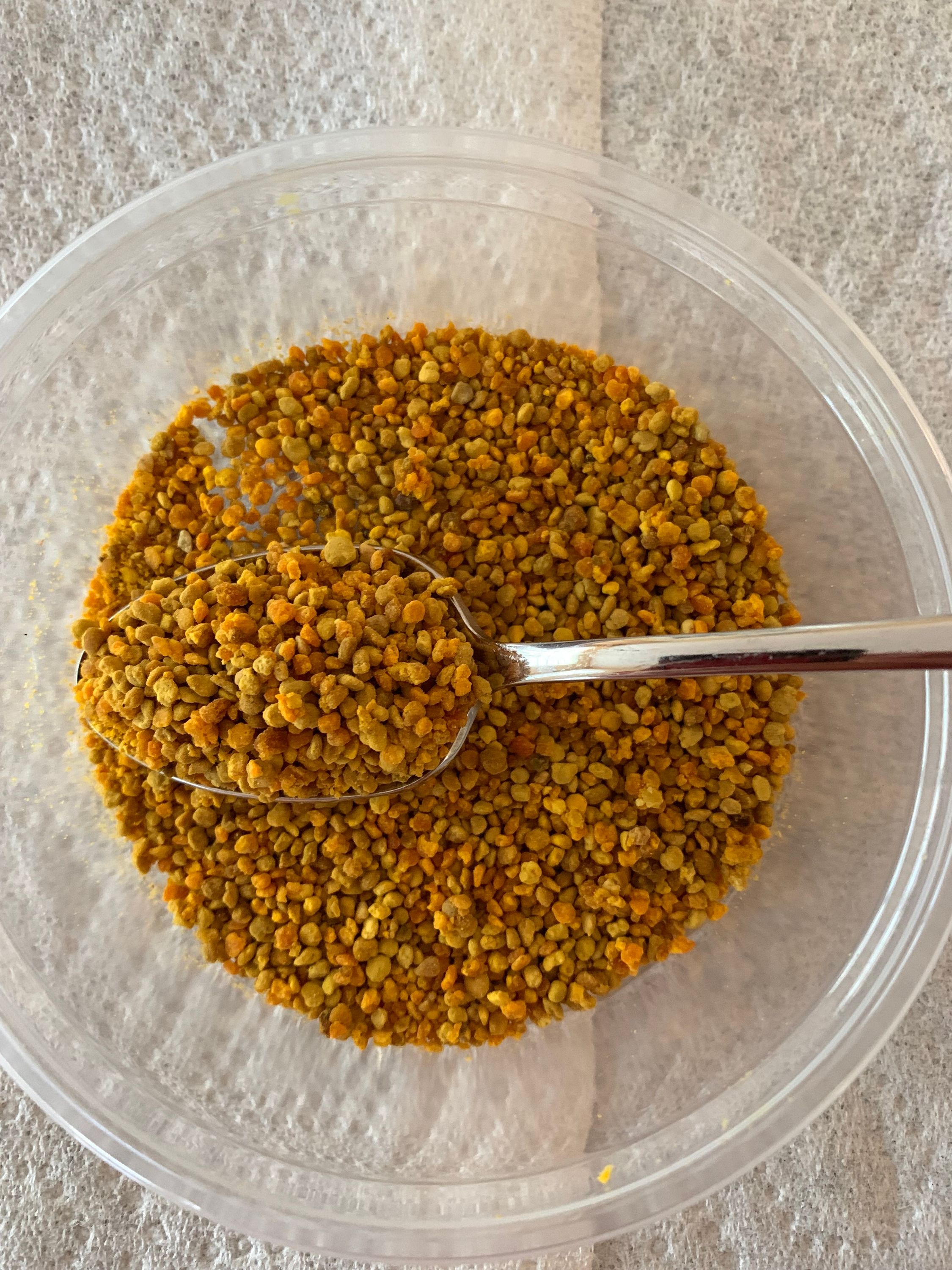 (My morning 'dose')
A week ago, I contacted all my math expert friends (just kidding) and calculated that my daily dose costs about a quarter. (That's 25 cents for those of you in Carthagena, Ohio 😎.)
How does that compare to what you might be paying for a dose of Big Pharma's offerings? Even if they were about the same price—and just as an example—what are the short-term side effects of fexofenadine hcl, the active ingredient in Allegra?
I searched and found this list of common side effects: nausea, diarrhea, upset stomach, muscle or back discomfort or pain, sleepiness, drowsiness, tiredness, headache, and menstrual cramps.
So, one is trading runny nose, itchy eyes, etc. for the above?! The website continues: "Contact your doctor if you have serious but less common side effects of Allegra including: allergic reactions, fever, chills, body aches, cough, or other flu symptoms."
Remember, these are all short-term side effects. I wonder what the long-term effects might be. I am not taking the time today to search specifically for any of these allergy drugs' long-term effects, but in general, and over the years I have noticed in my studies of Big Pharma that continued use of various drugs for all kinds of "health issues" often results in kidney damage, liver damage, and/or other internal organ damage.
As for me, I will continue with my nearly daily dose of bee pollen. Yummy!
-END-
---
---
Date
April 29, 2022
---
---