PRIDE

vs. Proud — Memorial Service for David

The past two weeks have been substantially a blur for me. I expect to be somewhat "back to normal" soon. I had prepared several blogs in advance of flying out to Oregon for a Memorial Service / Celebration of Life for my son, David.

It was held on Sunday afternoon, June 4th, at a huge ski lodge on Mt. Hood just a few miles from the farm where David and Alanda raised five of his six daughters. Mt. Hood—considered an active volcano—is about an hour and a half drive east-southeast of Portland. I was happy to only have to pick up a rental car and quickly get away from that cesspool of a city.

That enormous mountain is one of the "Three Sisters," active volcanic mountains in the Pacific Northwest: Mt. Hood in Oregon, along with Mt. Adams and Mt. Saint Helens across the Columbia River in Washington.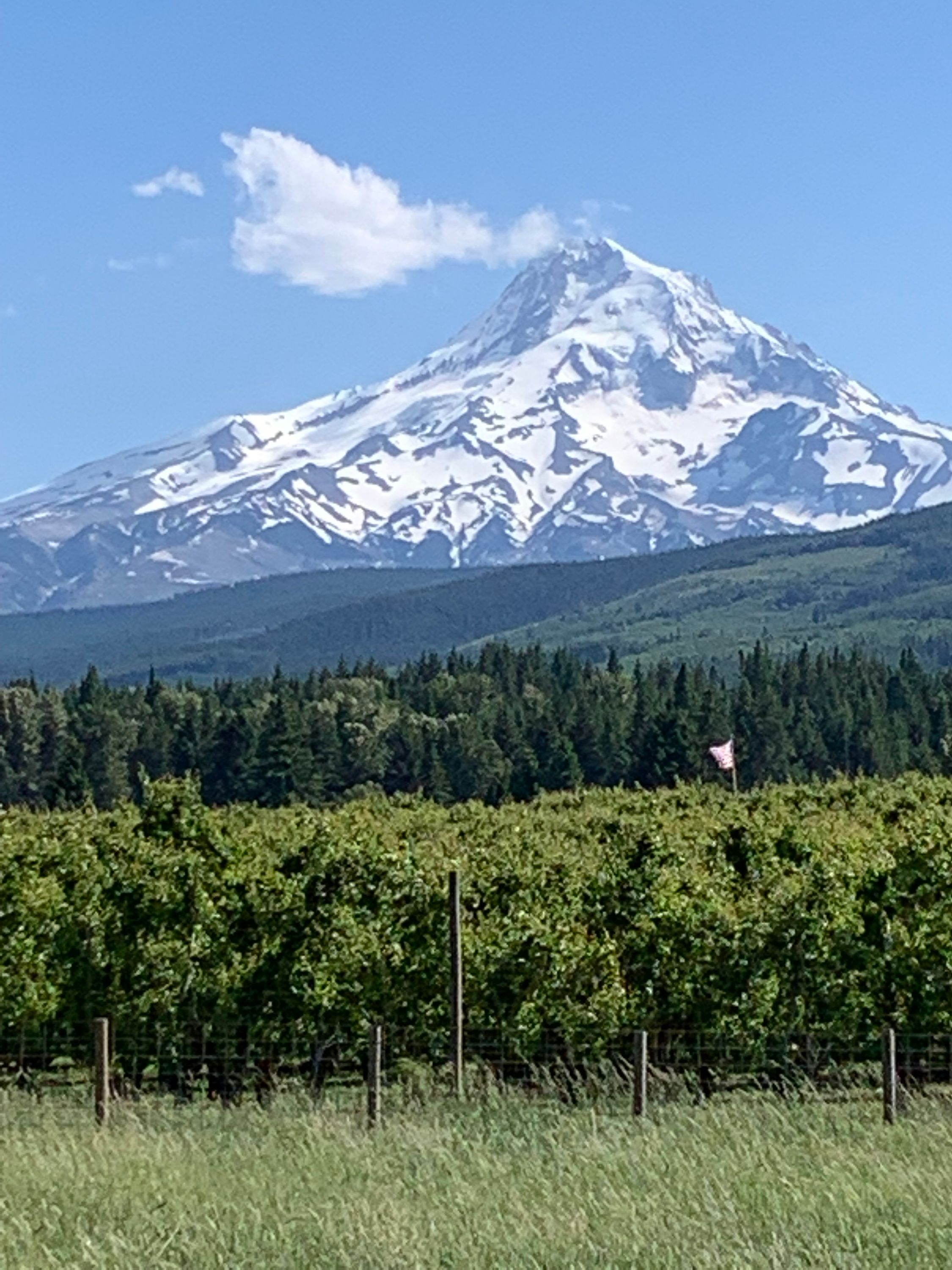 (Mt. Hood, Oregon. Taken by James Bruggeman from the farm where David and his wife raised their daughters. It is somewhat zoomed in to convey the utterly enormous size of this mountain.)
The outbound trip from the Asheville Regional Airport (AVL) to Portland (PDX) was an unpleasant experience. When I had made the reservations, it seemed to be the best combination of times, connections, and least expensive route.
It was booked via United Airlines with a just-in-time connection from Chicago to Portland. What a thrill (caution: sarcasm ahead) to be traveling through two of the "wokest" large cities (disaster areas) in the country. Asheville also is very "woke," but it is a much smaller city.
My flight out of AVL was delayed… and delayed, because the plane had been delayed in Chicago. No reason given. It had been scheduled for a quick turnaround in AVL and then off again to Chicago (CHI).
In my experience, it is oftentimes the case in the airline industry that the reason given for delays by the PA announcement at the gate is mis- or disinformation.
There are certain times, naturally, when it is wise to withhold certain information, such as that the plane you are about to board had run into some birds on the inbound, and the mechanics and pilots are are now checking the plane and its engines—that happened for one of my flights.
That big detail was not announced, of course, but I learned about it from a friendly chat with a flight attendant at the gate. She was also going aboard, so I said an extra prayer and figured if the pilots and the flight attendant were satisfied that everything was okay, then I would take the risk… and pray yet another extra prayer!
But regarding our outbound from AVL to CHI , I discovered that the real reason for its delay, was that United was having difficulty finding enough pilots to fly all their flights. That did not make me feel any better, given what we red-pilled citizens know about Covid and the jabs.
So, by then I was already going to miss my connection in Chicago, so I was rebooked in AVL for a later flight from CHI. It now entailed about a four-hour layover in Chicago.
As I meandered around the terminal at O'Hare, I was astounded at the number of travelers still wearing masks! They may be "woke," but they are certainly not "awake!"
Then, what a thrill it was as I turned a corner and was confronted with another evidentiary "proof" of just how woke Chi-town is. Here's my "cell-fie" shot of the LGBTQ …WERTYUIOP[]  community's PRIDE and joy display.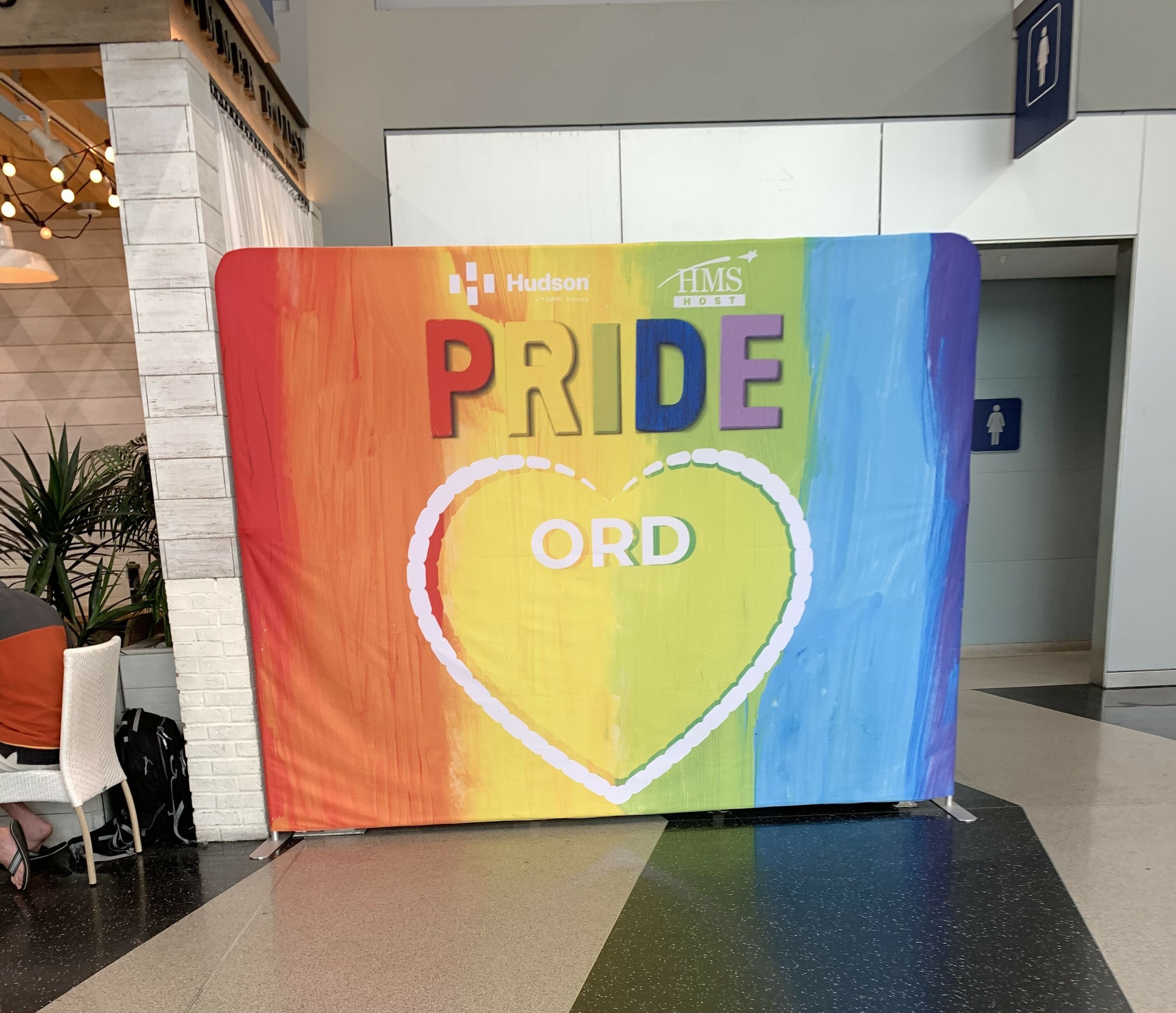 Psalm 10:4 The wicked, through the pride of his countenance, will not seek after God: God is not in all his thoughts.
3 The integrity of the upright shall guide them: but the perverseness of transgressors shall destroy them.
And here is still more evidence of the "Wokeism" on display in Chicago.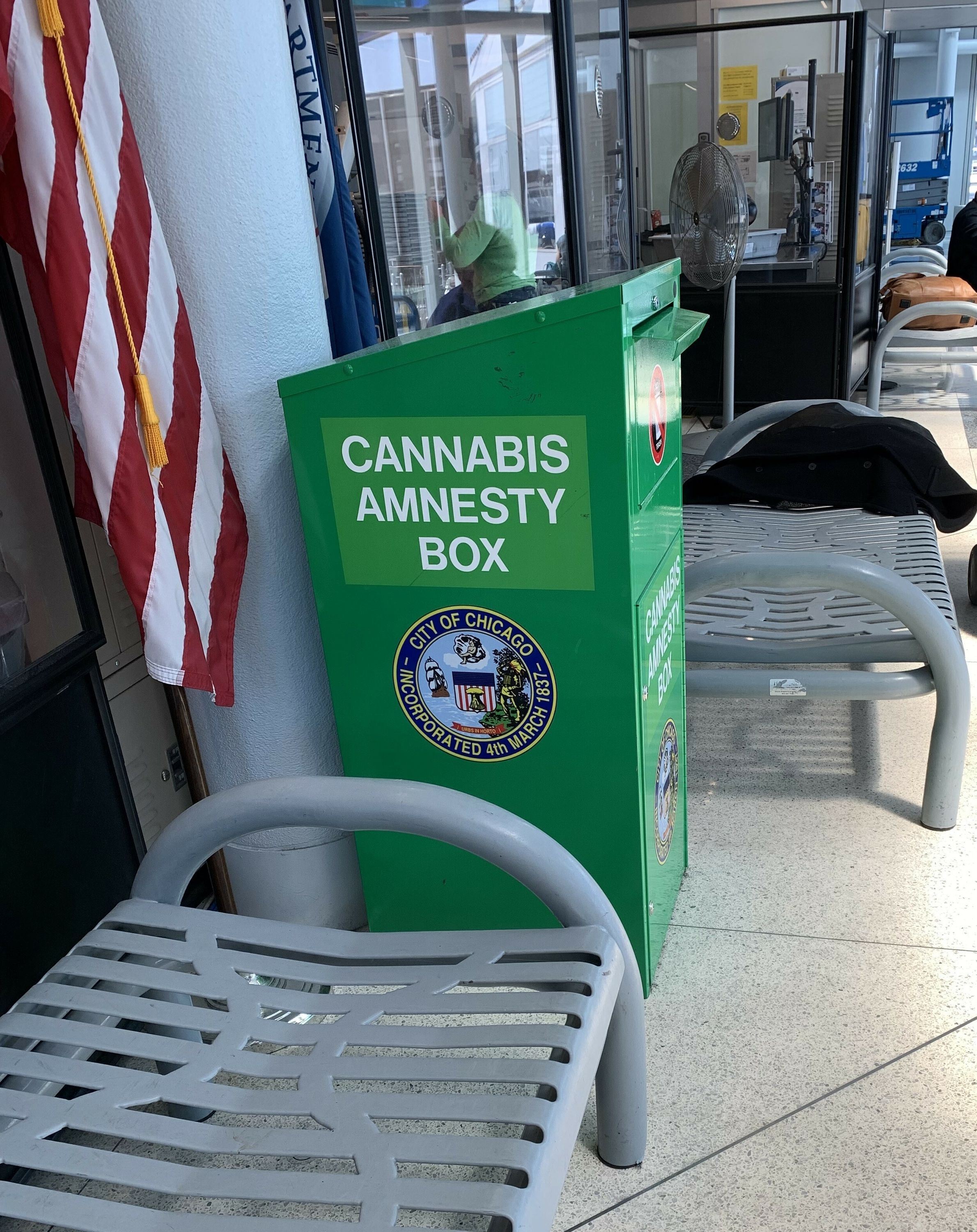 The return flights were uneventful and I arrived back at my house a few minutes before midnight on Monday, June 5th. I took a day off on Tuesday to try to recover from what turned out to be a very emotionally exhausting and bittersweet experience.
The rest of last week was lecture prep and then I was gone this past weekend at our Stone Kingdom Fellowship gatherings in Tennessee and Georgia. Yesterday was a day of rest again—and I still feel like I am recovering from the ordeal in Oregon.
It was bittersweet because it combined the bitterness (not a negative bitterness, rancor, or anger, etc., but bitter in the sense of grief and sadness over the loss of a loved one) combined with the sweetness of having time to get better acquainted with my granddaughters, five of whom are 17 or older and one who is 9 ½ years old.
I brought in the PRIDE connection above to contrast with the righteous pride that I felt in my son's accomplishments in his short lifetime—he was 53. I took great pride in the character qualities and achievements of his daughters which were so clearly evident in our time together that weekend, and from their eulogies of their father, as well as in the events recorded in the slide and video presentation.
Jesus, quoting Genesis 2:24 said this: For this cause shall a man leave father and mother, and shall cleave to his wife: and they twain shall be one flesh? (Matthew 19:5)
David left our home in North Carolina when he was 20 and moved to Idaho and then Oregon to cleave unto his wife. All her family lived in the Mt. Hood area.
Due to the enormous distance between us, we were financially unable to travel to see him very often in the next 30-plus years. And likewise, he and his family were able to come back to visit us on only a handful of occasions.
As readers know from my previous blogs, I flew to Phoenix in April to visit him as he was dying while under treatment at the "last hope" clinic. We were all praying that the Father would work a phenomenal miracle in David. But His Plan was not to fulfill that desire of ours.
Those facts of David's last 30 years lived in the far West are to offer a reason why I had thought that upon his passing, I was able to "handle it" pretty well.
But at the Life Celebration in the meeting room atop the ski lodge on Mt. Hood, where all David's family and friends were present, it hit me like a Mack truck. As the slide show memorializing his life was interspersed with eulogies from his eldest four daughters and their mother, I lost it completely, needing a roll of paper towels to absorb the buckets of tears.
Even as I compose this blog, the memories of that experience are causing the dam to burst again. Of course, we all experience the pain, grief and sorrow of losing a loved one, so I shall not spill all my thoughts, reflections, memories and sorrow of my loss much further than this.
But I wanted to convey to you that in that Sunday experience on Mt. Hood and the Friday night, and all-day Saturday that I was able to be with his daughters and other family members and friends, I learned so much more about David and the impact that he had upon not only his family members and the love he had for them, but I also learned much more about the work that he did.
He was a highly-skilled electrician. While he was just a boy of about 15, I was able to place him as an apprentice with one of our (Bruggeman Construction's) favorite electrical subcontractors. He learned the trade very thoroughly.
His later excellence was shared with me by several of his co-workers over the past 30 years. They were from Idaho and spent the whole weekend with us. They had met David on a job in California 30 years go and then worked with him on jobs all over the globe, off and on for the next 30 years.
David had always been quite secretive about many of the various jobs he had worked on, but this one pair of co-workers in particular were very happy to brag about David and his superlative skills.
Many of the jobs—I now realize—were under highly-classified circumstances, and even though Dad was curious, David maintained his clearances and would not share hardly anything, except where he had been. And his co-workers, of course, told me nothing of a classified nature.
He had done several jobs with them in Korea, and Taiwan, and one without those co-workers on a job in communist China. There, he was subcontracting under a major U. S. defense contractor, who knew David by reputation, and when they were awarded the job in China, they told their own considerably-skilled electrician crews that they would be working under the supervision of David Bruggeman.
I knew David was superior. His middle-school-tested IQ was "off the charts." His mother and I chose not to tell him lest he be tempted and succumb to the wrong kind of pride.
When he was 19 or 20 years old, he was the youngest person ever in North Carolina history to pass the State Electrical Contractor's Exam and obtain a state license. Many other examples of his excellence I could share but I shall forbear.
All in all, with hearing of his excellence in his chosen career from his co-workers, and with seeing the fruit of his fatherhood displayed in his daughters, and hearing their intimate testimonies of his excellent fathering and love for them, it all caused my heart to swell with a pride that is a godly pride for David's job well done.
Farewell, and rest in peace, my son. I will see you in the resurrection in the Kingdom of heaven with our King, the Lord Jesus Christ!
-END-
---
---
Date
June 13, 2023
---
---